Wend-Al cast aluminium Toy Town band/soldiers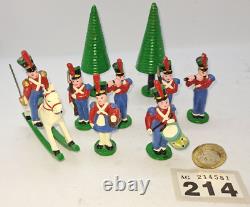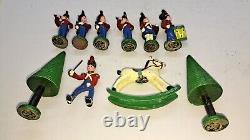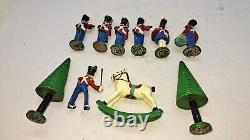 Cast aluminium figures by Wend-Al as shown on pages 301 of Norman Joplin's "The great book of hollow-cast figures" comprising. I provide high resolution photographs and describe the items as honestly and accurately as possible, but the photos tell the best story of age and condition. More photos can be provided upon request.
I regularly list lead figures by most 20th century English hollow-cast lead manufacturers including Barrett & Sons (B&S), Benbros, Britains, Charbens, Cherilea, Crescent, F G Taylor & Sons (FGT), John Hill & Co (JoHillCo), HR Products (Reynolds), Keymen, Kew (Ku-Zu), Luntoy, Morestone, Philip Segal, Pixyland, Roydon, Sacul, TAG, Taylor & Barrett (T&B), Timpo and Wendal. If you don't receive an invoice within a few minutes, please message me and request one. Customers located outside the United Kingdom. New rules came into effect on 1st July 2021.
If you make multiple payments, I will not be able to combine your orders.