William Britain Toy Soldier Collection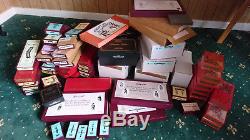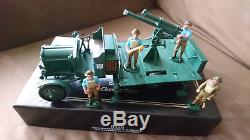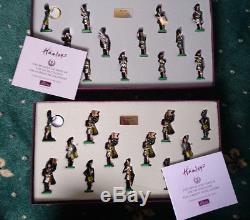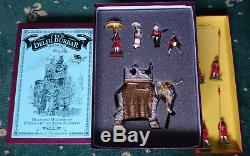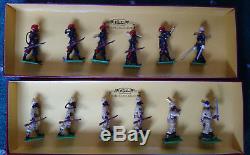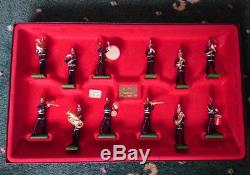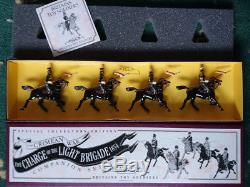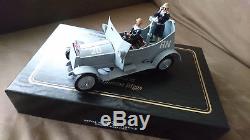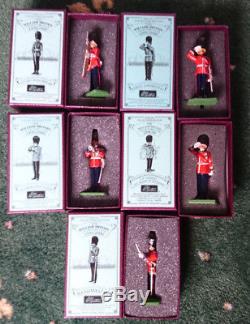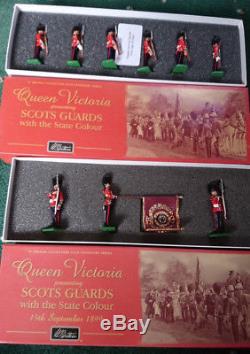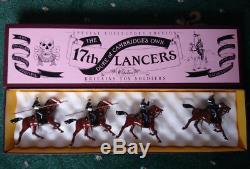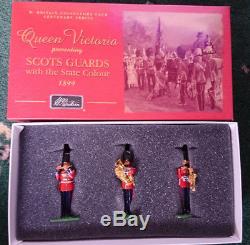 Final reduction in price before lot removed. An extensive collection of William Britain Soldiers and vehicles - in excellent condition Don't miss out on this incredible collection of original William Britain lead soldiers. All in original boxes and all in excellent condition.
I have tried to itemise the entire collection below, keeping them grouped together in matching sets where possible and including the official box set item numbers. I have added a random selection of photos of the collection to show the overall quality. William Britain Soldier Collection : Victoria presenting Scots Guards with theState Colour 1899 collection Queen Victoria in the Royal Barouche withattendants 00293 Scots Guards : Colour Party with State Colour 5991 Scots Guards : Sgt. Shoulder Arms, Corporal and Private present arms 00294 Scots Guards : Duke of Connaught 5993 Scots Guards : Band Set Bassoon, Tenor Drum, Cymbals 00291 Scots Guards : Band Set Bass Drum, Side Drum, Oboe 5992 Scots Guards : Band Set Side Drum, Clarinet, French Horn 40202 Scots Guards : Band Set Tuba, Alto Saxophone, Piccolo 40106 Scots Guards : Band Set Sgt.
Cornet 40201 Scots Guards : Band Set Circular Bass, Tenor Sax, Euphonium 00292 Scots Guards : Band Set Tenor Horn, Trombone, Clarinet 5994 Scots Guards: Bandmaster 00328 Scots Guards : Sgt. Major 1st Battalion 00137 Scots Guards : Sgt. Scots Guards : Corporal Presents Arms -?
Scots Guards : Regimental Quartermaster Sgt. 1st Battalion The Gordon Highlanders The Regimental Band of the 1st BattalionThe Gordon Highlanders The Drums and Pipes of the 1st Battalion The Gordon Highlanders 00028 The Delhi Durbar Collection The Duke and Duchess of Connaught on State Elephant 08956 The 1903 Delhi Durbar 8848 Ceremonial Guard for the State Elephants 08957 (x2 sets) Vehicles Thornycroft A. Truck with Service Detachment 8926 Royal Naval Air Service Armoured Car 8925 Sopwith F. Camel Plane 08941 British Tank Mark 1 Mother Male 08946 Vickers Machine Gun Combination of the Machine Gun Service 8922 Bren Gun Carrier with Crew 1876 The Charge of the Light Brigade 1854 The 11th Hussars 3110 The 4th Light Dragoons 3111 The 17th Lancers 3113 The Russian Infantry 3114 The British Army in India 1st Central India Horse 8846 The Queens Own Madras Sappers & Miners 8847 The Queens Own Corps of Guides Cavalry 8835 9th Bengal Lancers (Hodsons Horse) 8953 5th Bombay Cavalry 8952 57th Wildes Rifles 8954 No. Punjab Frontier Force 8955 2nd (Sirmoor) Gurkha Rifles 8841 1st Regiment of Bombay Infantry 8845 127th Baluch Light Infantry 8833 38th Central India Horse 8951 27th Punjab (Rawalpindi) Regiment of the Bengal Infantry 8842 45th Rattrays Sikhs 8836 45th Rattrays Sikhs 8837 45th Rattrays Sikhs 8838 27th Light Cavalry 8839 (x2 sets) 2nd Bombay Cavalry Lancers 8840 (x2 sets) The Empress of Indias 21st Lancers 8807 The Governor Generals Bodyguard 8843 15th Ludhiana Sikhs - 8832 Other Regiments 5th Royal Irish Lancers 8959 The Queens Own 4th Hussars 8811 25th Cavalry Frontier Force 8844 The Duke of Cambridges Own 17th Lancers 8806 The Duke of Cambridges Own Middlesex Yeomanry 8812 The Duke of Yorks Own Lancers (Skinners Horse) 8834 The Irish Guards 8805 The Blues and Royals of the Household Cavalry Regiment 5293 The Royal Marines 3 Additional Side Drummers 3108 The Royal Irish Rangers 5192 The 9th/12th Royal Lancers 5392 American United States Army Band of Washigton D.
5391 Cowboys and North American Indians 208. The item "William Britain Toy Soldier Collection" is in sale since Thursday, October 4, 2018.
This item is in the category "Toys & Games\Toy Soldiers\Britains". The seller is "goodsharkey" and is located in Lytham St. This item can't be shipped, the buyer must pick up the item.
Brand: William britain
Non-Domestic Product: No
Era: 1914-1945
Type: Military Personnel
Country/Region of Manufacture: United Kingdom
Material: Painted Lead
Nationality: British
MPN: 40190