BRITAINS Civil War 31386 Dismounted Flagbearer 1st Virginia Cavalryman Mount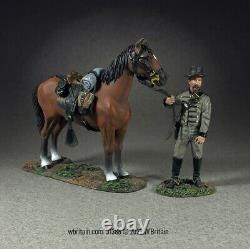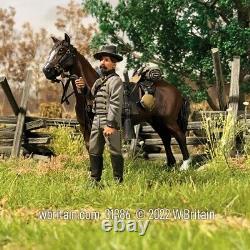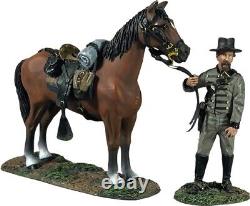 A WONDERFUL OPPORTUNITY TO ADD TO YOUR COLLECTION!! FOR COLLECTORS OF 14 YEARS +, THIS IS A DETAILED SCALE MODEL PRODUCED BY WILLIAM BRITAINS (FAMOUS FOR YEARS OF PRODUCING METAL "TOY" SOLDIERS). BRITAINS Civil War 31386 - Dismounted 1st Virginia Cavalryman Mount.
Federal Cavalry Trooper Holding Horse. The 1st Virginia Cavalry completed its organization at Winchester, Virginia in July 1861, under the command of Colonel James Ewell Brown J. Stuart at the command of General Thomas Jackson.
Unlike most regiments the 1st Virginia was unique with 12 companies, not 10, in its ranks. The First Virginia Cavalry participated in more that 200 engagements of various types throughout the war.
They served under many well know confederate cavalry officers such as William "Grumble" Jones, William Carter Wickham, and Thomas T. The regiment participated in the battles of Bull Run, Gainesville, Second Bull Run, Antietam, Fredericksburg, Kelly's Ford, Chancellorsville, Brandy Station, Gettysburg, Bristoe Station, The Wilderness, Todd's Tavern, Spotsylvania, Bethesda Church, Cold Harbor, and Petersburg. WE ARE AN OFFICIAL BRITAINS RETAILER AND THE PRODUCT IS BRAND NEW. Be sure to add me to your favourites list. Check out my other items.